Welcome to the ultimate guide to Heavenly Ski Resort! Located on the border of California and Nevada, Heavenly offers a unique blend of exhilarating slopes, breathtaking views, and vibrant nightlife. In this guide, we'll cover everything you need to know for a memorable winter adventure, including information on ski trails, accommodations, dining, and other activities. Let's get started!
A Heavenly Overview
Heavenly Ski Resort boasts 4,800 skiable acres, making it one of the largest ski resorts in North America. With 97 trails, 28 chairlifts, and a vertical drop of 3,500 feet, skiers and snowboarders of all skill levels will find endless excitement on the mountain. The resort is also known for its stunning panoramic views of Lake Tahoe and the surrounding Sierra Nevada Mountains. You wanna have a look? You have our selection of Heavenly webcams.
Skiing and Snowboarding at Heavenly
Heavenly offers a diverse range of terrain to suit every skier and snowboarder. In this section, we'll break down the resort's trail offerings, from beginner-friendly runs to adrenaline-pumping expert slopes.
Beginner Trails
Heavenly provides an excellent learning environment for beginners, with plenty of gentle slopes and wide-open spaces. Some of the top beginner trails include:
Enchanted Forest: This scenic, tree-lined trail offers stunning views of Lake Tahoe.
Intermediate Trails
Intermediate skiers and snowboarders will find an array of blue-square runs, offering the perfect balance of challenge and fun. Don't miss these intermediate favorites:
Ridge Run: This wide, groomed trail offers breathtaking views of the lake and surrounding mountains.
Expert Trails
Advanced and expert skiers will relish the resort's black-diamond and double-black-diamond runs, featuring steep slopes, moguls, and glades. Check out these must-ski expert trails:
Killebrew Canyon: This challenging backcountry area offers steep chutes, cliffs, and tree skiing for the adventurous.
Lift Tickets and Season Passes
Heavenly offers a range of lift ticket and season pass options to suit every budget and preference. Here's a quick breakdown of what to expect:
Lift Tickets
Lift ticket prices at Heavenly vary based on factors such as age, time of season, and whether you purchase in advance or at the resort. Be sure to book online for the best deals and to take advantage of multi-day discounts.
Season Passes
Heavenly is part of the Epic Pass program, which offers unlimited skiing and snowboarding at numerous resorts across North America and beyond. If you plan on skiing multiple days or visiting other resorts, an Epic Pass may be the most cost-effective option.
Ski and Snowboard Lessons
Whether you're a first-time skier or looking to hone your skills, Heavenly offers a variety of ski and snowboard lessons for all ages and abilities. Choose from group lessons, private lessons, or specialized clinics to help you make the most of your time on the mountain.
Group Lessons
Group lessons are a cost-effective way to learn the basics or improve your technique while meeting fellow skiers and snowboarders. Heavenly's professional instructors provide a fun and supportive environment for all participants.
Private Lessons
If you prefer a more personalized experience, private lessons offer one-on-one instruction tailored to your skill level and goals. These lessons can accommodate up to six people, making them ideal for families or groups of friends.
Specialized Clinics
For those looking to refine specific skills or explore new terrain, specialized clinics provide targeted instruction in areas such as mogul skiing, terrain park skills, and backcountry exploration.
Lodging and Accommodations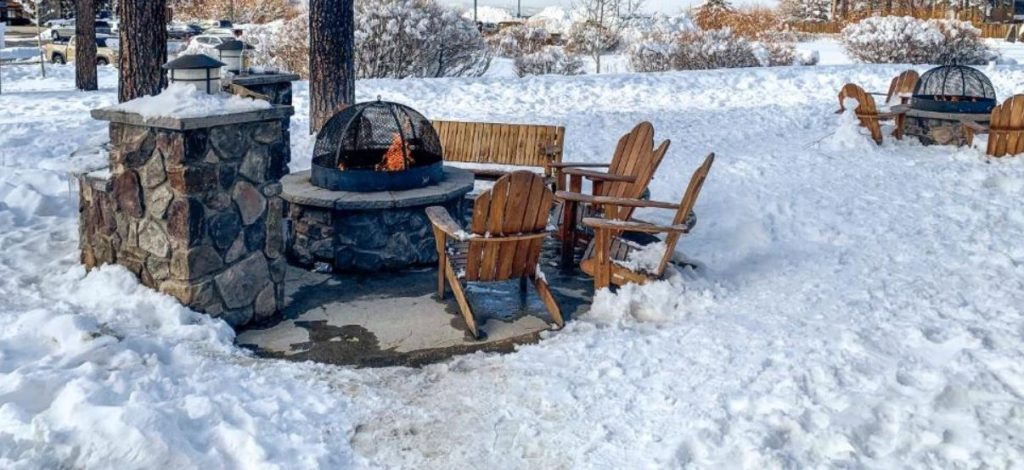 Heavenly Ski Resort offers a wide range of lodging options, from cozy cabins to luxurious hotels. Consider these popular accommodation choices to find the perfect fit for your winter getaway:
Heavenly Village Condos
Located in the heart of Heavenly Village, these upscale condos offer easy access to the gondola, shopping, and dining. Enjoy the convenience of fully-equipped kitchens, comfortable living spaces, and beautiful mountain views.
Forest Suites Resort at Heavenly Village
This family-friendly resort features spacious suites, an outdoor heated pool, and complimentary breakfast. With a prime location near the gondola and village amenities, Forest Suites Resort is an excellent choice for convenience and comfort.
Lakeland Village Resort
Nestled on the shores of Lake Tahoe, Lakeland Village Resort offers a serene lakeside retreat just minutes from the ski slopes. Choose from a variety of accommodations, including studios, townhouses, and luxury suites.
Dining at Heavenly
Heavenly Ski Resort boasts a diverse selection of dining options, from casual on-mountain eateries to elegant lakeside restaurants. Here are some top choices to satisfy your hunger after a day on the slopes:
On-Mountain Dining
Refuel during your ski day with a visit to one of Heavenly's on-mountain dining options, such as:
Tamarack Lodge: Offering hearty dishes, grab-and-go options, and a lively après-ski scene.
Heavenly Village Dining
In Heavenly Village, you'll find a variety of restaurants, cafes, and bars to suit every palate. Some popular options include:
Base Camp Pizza: Serving up delicious pizza, pasta, and salads in a family-friendly atmosphere.
Lakeside Dining
For a truly unforgettable dining experience, indulge in a lakeside meal with stunning views of Lake Tahoe. Don't miss these top picks:
Edgewood Tahoe Restaurant: Offering gourmet cuisine, an extensive wine list, and panoramic lake views.
Non-Ski Activities and Attractions
Heavenly Ski Resort offers more than just skiing and snowboarding. There are plenty of activities and attractions to enjoy, even if you're not hitting the slopes. In this section, we'll explore some of the top non-ski activities available at Heavenly.
Snowshoeing and Cross-Country Skiing
Explore the beauty of the Sierra Nevada Mountains at a slower pace with snowshoeing or cross-country skiing. Heavenly offers groomed trails and rentals for both activities, making it easy to immerse yourself in the tranquil winter landscape.
Scenic Gondola Rides
Take a breathtaking ride on the Heavenly Gondola, which offers panoramic views of Lake Tahoe and the surrounding mountains. The gondola whisks you up to the Observation Deck, where you can enjoy refreshments and snap some stunning photos.
Tubing and Sledding
For family-friendly fun, head to Heavenly's tubing and sledding hill, where both kids and adults can enjoy the thrill of sliding down the snow-covered slopes on inflatable tubes or sleds.
Ice Skating
Glide across the ice at Heavenly's outdoor ice-skating rink, located in the heart of Heavenly Village. Skate rentals are available, and the rink is surrounded by cozy fire pits for warming up between laps.
Spa and Wellness
After a long day on the mountain, indulge in some well-deserved relaxation at one of Heavenly's nearby spas. Treat yourself to a soothing massage, rejuvenating facial, or a soak in a hot tub to ease tired muscles.
Section 8: Heavenly Nightlife

As the sun sets on the mountain, Heavenly's vibrant nightlife comes alive. From laid-back après-ski lounges to lively nightclubs, there's something for everyone to enjoy after a day on the slopes.
Après-Ski Hotspots
Wind down after a day on the mountain at one of Heavenly's popular après-ski spots, where you can enjoy live music, delicious food, and refreshing beverages. Some top choices include:
Gunbarrel Tavern: This lively bar offers craft cocktails, local brews, and a tasty pub menu.
Nightclubs and Entertainment
For those looking to dance the night away or catch a live show, Heavenly's nightlife scene has plenty to offer. Check out these popular venues:
Opal Ultra Lounge: This chic nightclub features DJ beats, signature cocktails, and a lively dance floor.
Conclusion
Heavenly Ski Resort truly offers something for everyone, from exhilarating ski runs and stunning views to a wide range of accommodations, dining options, and off-slope activities. With this ultimate guide in hand, you're well-equipped to plan an unforgettable winter adventure at Heavenly. We hope you enjoy your visit and make memories that will last a lifetime!
The best time to visit Heavenly Ski Resort for optimal skiing conditions typically falls between mid-December and mid-April. During these months, you can expect a good balance of snowfall and sunny days, which provide excellent skiing and snowboarding conditions. January and February often see the most significant snowfall, while March and April offer milder temperatures and longer daylight hours. However, weather can vary each season, so it's essential to check the current snow conditions and weather forecast before planning your trip.
Yes, Heavenly Ski Resort offers a variety of beginner-friendly ski and snowboard programs, ensuring newcomers can learn the basics and build their skills in a fun and supportive environment. Group lessons are available for both children and adults, providing a cost-effective way to learn alongside fellow beginners. Private lessons are also available for those who prefer one-on-one instruction tailored to their specific needs. Additionally, the resort features a dedicated beginner area with gentle slopes and easy-to-navigate terrain, perfect for first-time skiers and snowboarders.
You can book lessons clicking here.
Heavenly Ski Resort offers a wide range of non-skiing activities for visitors to enjoy during their stay. Some popular options include:
Snowshoeing and cross-country skiing: Explore the winter landscape at a leisurely pace.
Scenic gondola rides: Enjoy panoramic views of Lake Tahoe and the surrounding mountains.
Tubing and sledding: Have family-friendly fun on snow-covered slopes with tubes or sleds.
Ice skating: Glide across Heavenly Village's outdoor ice-skating rink with skate rentals available.
Spa and wellness treatments: Relax and rejuvenate after a day on the mountain with massages, facials, or hot tub soaks.
Vibrant nightlife: Experience après-ski hotspots, bars, and nightclubs for evening entertainment.
Heavenly Village: Discover shopping, dining, and entertainment options just steps away from the resort.